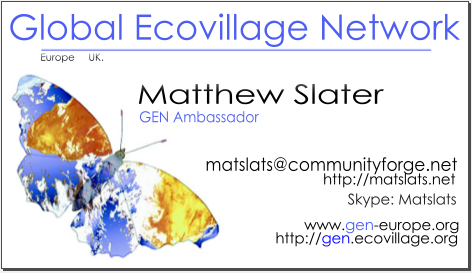 English
|
Espagnol
Many ecovillages are struggling to live the dream because they have yet to escape from debt and the need to pull money out of the global economy to meet their needs. Few of them are creating the things they need to live, so the majority of ecovillages are drawn into the main stream economy to meet basic needs. Ecovillages should be cooperating in wealth creation and replacing scarce money in their economic relationships with abundant trust.
I have been made an ecovillage ambassador to enable me to explore the ecovillage economy more deeply, and ask the following questions.
What are the barriers to generating wealth?
What trading opportunities have not been realised?
What are the most appropriate sources of investment capital?
How can ecovillages support each other better?
How can ecovillages rely less on money and more on themselves?
I hope to tour the larger ecovillages this summer, travelling slowly. Though I planned this for a year, I have a large concurrent commitment to work on the new CES software.
My aim is to listen to as many people as possible, and capture the most important information as data in a database where it can be analysed. Villages' privacy will be respected. Then I will invite others to fill in the survey, and make some proposals to GEN at the end of the year.
So I'm looking for invitations from ecovillages who would like to support this work by accommodating me for a few days or weeks from May to September.
Comments
Hello Matthew, fantastic initiative, well done, and I wish you a lot of rewarding experiences with that!
I am personally involved in an ecovillage project in La Palma (Canary Islands) and we have started to spot potential eco-business streams for us but we surely would benefit from reading the results of your study.... so I was wondering, what is the best way to be kept in the loop please?
I look forward to reading all your updates!
Again, all the best and thank you for this is surely very valuable inputs for any ecovillages 'in forming' phase!
Good wishes,
Cécile
Hi Matt,
In your touring, I suggest, if you haven't yet planned it, to visit the Longo Mai cooperatives. The main one is based in Limans, in south-east France. They have developped a network of 10 coop around Europe and have a system of mutual exchange (not measured) of their production. It is a post-'68 collective which has now over 40 years of existence.
I am planning to visit them toward the end of this year so I might be able to give you more info then if you need.
I am also maturing an ecovillage-type-of-project so I'm very interesting in your findings.
Regards,
Loic
PS: Quite interested to find out about your work on CES, as I've used it in the past and now am using CF and can see pros and cons in both plateforms.
Thanks Loic,
Since the ecovillages I visited were focused on other things I am now interested now to connect with networks of cooperatives where the focus is production. They might be interested in accounting for exchange either internally, or with other networks. in either case I'd love an inntroduction!
Add new comment