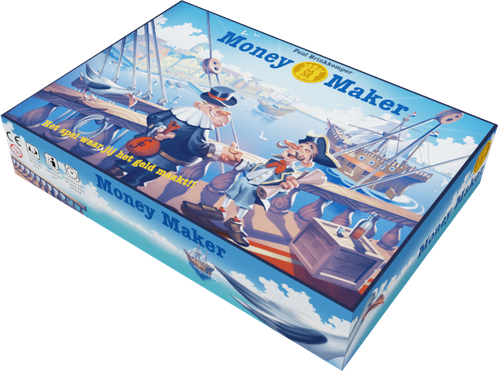 As an adult I've had very little to do with board games beyond an awareness that adult board games are complex enough to be interesting, and there is a vibrant community of adults who enjoy them!
So when the Money Maker board game on the subject of money and banking appeared, I was keen to try it and maybe offer a monetary critique for my readers. Plus, €40,00 was a bargain considering it was self published, doubtless with a small initial print-run.
The game is set in Amsterdam around 16th Century, I guess just before the first central bank was created, and players are called banks, except in those days many financial functions were done by super-merchants.
So players buy businesses, and buy and sell produce, with gold but crucially also with credit they issue themselves into the marketplace. From players point of view the credit is parked in the marketplace, but in reality smaller traders would have been using it as a medium of exchange. From time to time though, that credit must be redeemed in full or in part by gold. Players who have enough gold in those moments are granted an improved credit rating which means the risk of redemption is reduced and they can put out more credit.
The game is not one of those 'a minute to learn, a lifetime to master' affairs, and requires some scrutiny of the rules before you can get going. There are many kinds of game cards and tokens, from each players credit, to gold, to businesses, two market commodities, and event cards, as well as a board which, representing Amsterdam, looks busier than it would strictly need to. Nonetheless, the rules are well presented, and there is a simplified version of the game to get you used to the markets before credit money is issued.
The end result is an exercise in risk management and opportunism, combining I think, more skill and experience than luck. There isn't a huge amount of playing directly 'against' each other, but players combined actions set prices, and then when credit can't be paid players may choose to bail each other out. Then holding each other's discounted credit, they can either spend it back out into the market or use it against competitors in the next bank run - it all makes risk management more interesting!
My conclusion then is very positive. Buy this game, get a feel for what financial risk management is about, and money itself, and why central banks were deemed necessary, a sense of history, and also support the didactic and entrepreneurial efforts of the game makers!